"The biggest adventure you can take is to live the life of your dreams"
Myself and my husband were 10 years married in 2020 and we decided, to celebrate we would love to take our little Noah to Lapland. It was always going to be a package trip with Sunway for our first trip, and Im so so so glad we did. December 2019 we booked with the amazing Liberty Travel here in Lettekrenny. The deposit was 200 euros. Every month we chipped away at the balance, was so handy we would just drop the money into one of the girls.
Unfortunately our trip like many other holidays was cancelled in Dec 2020, but thankfully we hadn't told Noah and we knew we would get in the next few years, he was only 5.  Liberty Travel took the whole stress out of it, they rang us and asked if we wanted a refund or that Sunway would honour the same price for the trip in December 2021, so we went with that.
We decided on the 3 night stay and we flew direct from Dublin airport to Kittila, which is located north of the Artic Circle and the flying time is just over 3 hours. Finland is 2 hours ahead of us here in Ireland. Our flight was at 12 noon and with the time difference, by the time you got to your accommodation it was 7pm, therefore I definitely would recommend the 2 or 3 night stay as the first day was all travelling.
 Activities:
The Sunway package included: Reindeer Ride, Huskey Ride, Snow Mobile Ride, Visit Santas Hideaway, Elf School, The Toy Factory, The Post Office and The main one, A private meeting with Santa.
Food:
All meals were included in the price and I had heard so many mixed reports about the food, so much so that I went the day before and spent nearly 50 euros on snacks incase Noah hated the food….this was not necessary.  The food was fab.  It was all buffet style, so for breakfast there was the usual, porridge, cereals, fruit, pancakes, eggs etc.  Lunch was always for Noah, chips and sausages, or chicken nuggets or fish fingers, his plate was cleaned everyday.  The dinners were pretty much the same for kids and the adults, honest to God there was such a good variety, and to finish it all off every evening we had tea and ginger biscuits. On the last. night, they host a festive dinner, this was so so nice. We all had our own family table with Christmas crackers and all the Christmas Dinner trimmings.  We all had our Christmas jumpers on and Santa even came the REAL one that we visited and we all got a family pic with him followed by a kids disco.
Antigen Testing:
With the ever changing travel restrictions, we now needed a negative Antigen test not to to get into Finland at that time but we needed it when we returned to Dublin airport along with locator forms. Again Sunway had this sorted, they sent us a step by step account of how to book our tests, Noah didn't need one. They also sent us the direct link for the locator forms which needed to be filled out for our return and they organised for our tests to be done in our accomodation the day before we were to travel home and we had the results in 2 hours.
Clothing:
With Sunway, you are provided with a Snow Suit, Snow boots,The Warmest socks, you know the ones like your granny knitted, well my lovely granny used to knit these socks for my uncles every Christmas and by God where they warm lol.
I managed to buy the extra bits over the 2 years in Borderland in Muff here in Donegal. Mountain Warehouse in Letterkenny and there old reliable Pennys.
Noah: Base Layers, which were thermals I picked up in Borderland, Mountain Warehouse & Pennys
Mid Layer, Tracksuit Bottoms Thermal Vest, Christmas Jumper or  Fleece, Ski Socks & The AMAZING wooly socks
Then on top of that he had his Snow Suit on, and the Snow boots.
Assecossories: Snood, Hats and 2 pairs of gloves. The first set was the wee cheap ones in penneys, I used them as a linner and then put on the ski gloves I picked up in Borderland. I always threw a few extra pair of the liners in incase they got wet. We picked up so so many hand warmers and do you know what we only used them once. Cant believe Im saying this but we were blessed with he weather that week, the coldest it got was -6. The week before it was -25.
Myself
Base Layers: Thermal Top and Leggings from Pennys.
Mid Layer: I got 2 pairs of the velvet plush leggings in Pennys the day before we left and omg they were the Best Buy EVER, so so cosy, I was a snug as a bug. I honestly didn't feel the cold once. I also had my Christmas jumpers with me, one for everyday of course even though you dont even see them under the Snow Suits lol.
Acccessories : Same as Noah, I bought the thin gloves in Pennys, great tip get the ones that you can use for your screen on the phone, I was still able to use my phone when I put on the Ski gloves on top of the liner gloves.
Got my thermal socks in Pennys too and along with thee Sunway socks my feet were toasty the whole trip.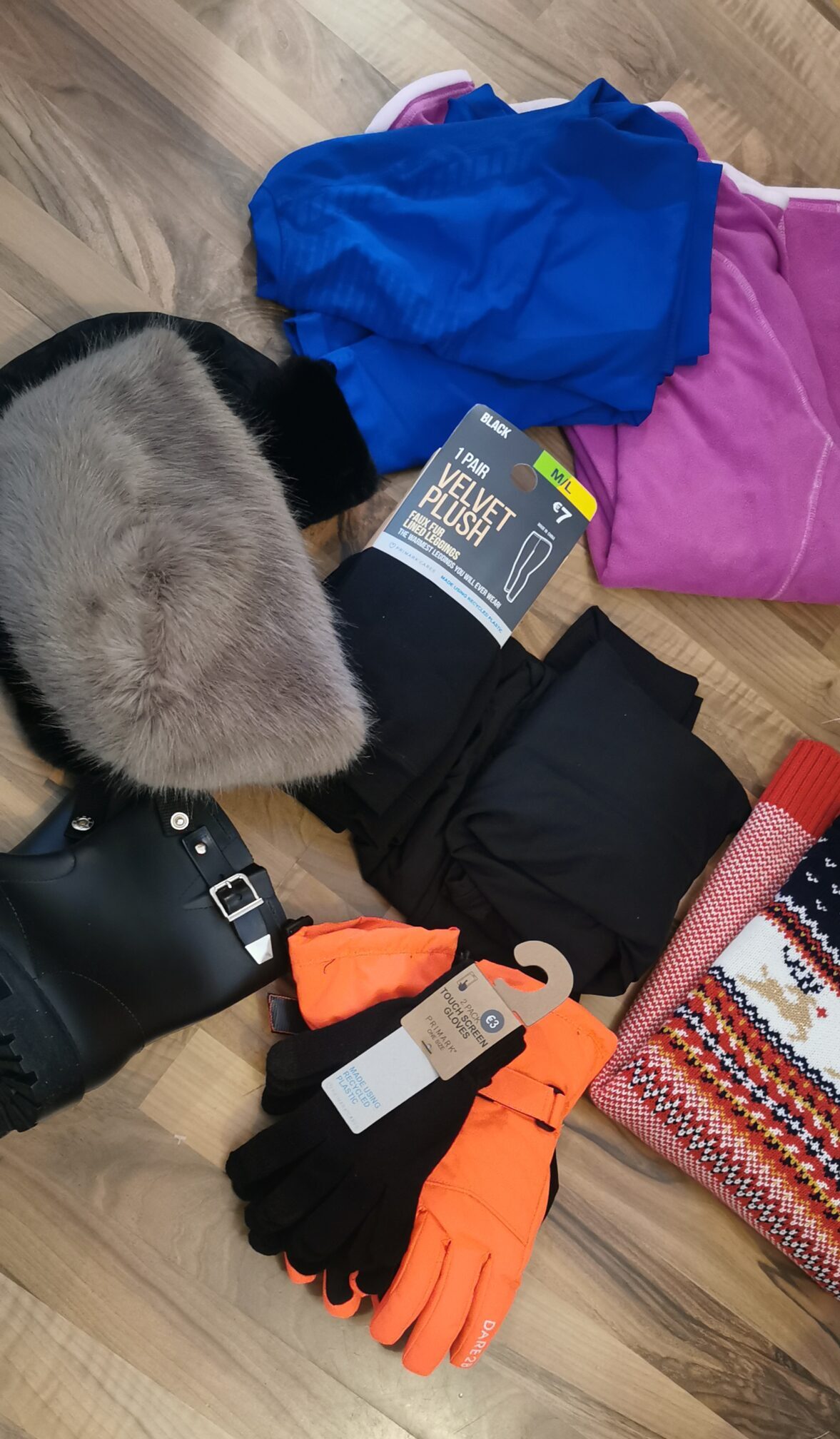 TIPS:
Bring your adapter plug, but bring an extension lead, so you can plug all into the one.
Glow Sticks for outside, remember Finland doesn't get many hours of sunlight so these are fab in when it gets dark again around 3pm lol
We did bring wayyyyyyy too many hand warmers but again it depends on how cold it is when you are there so I would def stock up on them.
When buying hats for child/children try and go for something bright maybe even with lights on, as all the kids look the same with these blue snow suits on. We could spot Noah a mile away with the hat with the lights on it. I got this one in Cooneys Christmas shop here in Letterkenny.
Bring a small rug-sack each, so you can pack extra gloves, a snood, a drink, and a snack for the bus journeys back to your accomodation.
Another great idea for a mid layer is fleecy pi's. A girl I know was there the week before and she used these as mid layers for her two boys and said they were snug as bugs too.
We decided not to tell Noah until the morning we were going to Dublin. We were just so unsure with the changing travel restrictions. He knew mammy and daddy were working so hard to save so that some day we could go to the North Pole.  That morning we told him that we had saved enough money but that we would have to wait until the day our elf Chippy would bring us tickets, because that's the only way you can get tickets. His wee face when he spied the tickets inside the balloon. Huge thank you Ingrid's Balloons who delivered this fab balloon with the boarding tickets inside which Chippy our elf brought. His wee face was priceless. We headed to Dublin the day before our flight and stayed in the Clayton Hotel in Dublin. Def DEF recommend this…We checked in about 7pm headed down for dinner and bed early. I barely slept I was so so excited. Morning came up we got and down for our breakfast. We were able to book our car here for the time we were away and hop on the shuttle bus which brought us right to Terminal 1.  The parking for the 3 days was only 24 euros.
DUBLIN AIRPORT
I was dreading the whole airport. Didn't know what it was going to be like…. Walked into Terminal 2 and nearly choked when I saw the length of the que for departures. Oh jaysus before I forget….DO NOT wear all the layers for the flight. I had all thermals on, Christmas jumper and my coat that was so so cosy but not for a busy Dublin airport . You really dont need any extra, because once you get off the plane in Finland you go straight to get your snow suit and you have time then when you get to your accommodation to get all the gear on. Anyway the que…… BUT THEN popping out like an angel form The North Pole was Rudolph the elf and called us over, where there was a separate line for us to Check In. Here the elf danced and chatted with the kids while we checked in and gave them all a goody bag with bits in it for the flight. This was a lovely touch, We were checked in in less than 2 mins. They just asked for our passports and covid certs. We were allowed 20kg eat for our luggage. SO away we went as happy as Larry into Butlers for 2 coffees and a hot chocolate.
The weeks leading up to Lapland were so busy I forgot what I had ordered or if I had ordered an anything.Thanks to the lovely Nicolette from Big Day Signs for these fab boarding passes, there is nothing this lady can't do.
We had so so much fun at the Departure lounge. The little touches, this sign to The North Pole was just so surreal seeing it up on the departure monitor and the kids were all so excited when they saw it and even the Pilot also when talking about departure and arrival to the North Pole. There were 2 elves here playing Christmas music and dancing with the kids and giving us ALL reindeer antlers and Rudolph red noses before we boarded the flight.  They also were on the flight and played games and sang songs, got the kids to tell jokes etc, the excitement levels were through the roof, jingle bells all the way lol.  Aer Lingus provided a light lunch with drinks and again food was lovely and just hit the spot.
There's a big cheer when we land at the small airport of Kittilia and the excitement is at an all time high with the first sighting and handling of snow.  Straight off the plane collected luggage and right outside into a warehouse where we all got kitted out in our Snow Suits, Boots & Socks and onto our bus where we met a very special elf who keeps us all entertained on the transfer to our accommodation. The transfer was only 40 mins from Kitilia airport.  It was times like this I was so glad we were on the package holiday. Everything was so well organised.
We arrived to our accommodation which was in Yllas at around 7pm local time and we could not wait to get in our snow suits and get out into that snow.  There were sleighs lying around everywhere to play on which was brilliant and our accommodation was just beside a ski resort so there were lots and lots of slopes to go sleighing on. This was Noahs favourite thing to do, if you ask him about Lapland at all he will tell you his favourite part was the sleighing. You do have free time too so any free time we had we were out sleighing.  Noah never once complained of being cold, we had him well layered up.  Make sure if you do go that you do the same I did see a few kids crying with the cold. Let me tell you, you soon warm up carrying the sleighs back up the slopes for the 20th time.
I also read somewhere not to be bringing big fluffy pjs as the accommodation were well heated and this was so true.  We just had our normal cotton Christmas pj'a with us and they were perfect.  Our accommodation was so so clean and our rooms got cleaned everyday, the shower was heavenly which was a god send in the evenings and there was a heated press in the bathroom were you could but all your wet gear in to dry for the next day. Below was the view form our bedroom, just magical and there was a door leading out to were we sat in the mornings and took it all in.
I cried so much that first evening just with total happiness. 
DAY ONE
We were on The Christmas Tree bus for our trips and the bus left this morning at 10am. Yes it was every inch as magical as these pictures below. I really felt I was in a movie. I keep telling everyone since I came back that the snow was so dusty like not the wet snow that we get here, it was like powder. It took about an hour to get to Santa's hideaway and again our lovely elf Rudolph played games the whole time on the bus. Here we caught our first sightings of reindeer among the trees, drank hot berry juice while throwing and dodging snowballs, and wandering  around the small gathering of wooden chalets. The kids got to sleigh away and play in the snow before the were off to visit Santas Post Office. This was so brilliant the way it was done with all the letters from the children all over the world. Santas office was right next door to the Post Office and we all got our own turn to visit the main man. They had it worked out so well, there was no queuing, while we were waiting on our turn we were in th post office were Noah was drawing a picture for Santa. While he was doing that I nipped out to the elf and asked could she give Santa something from me……..It wasn't a problem. Now…….it was our turn!!!!!!!!
We got to have our own private time with Santa, we were in with him for about 15 mins, I've a lump in my throat now typing this.  It was so so special. He talked away to us and then produced Noah's letter which made it all the way form Simpsons Post Box here in Letterkenny to The North Pole.  I will NEVER forget Noah's face and the tears were rolling down my cheeks at this stage. He read Noah's whole letter out to him, he did such an amazing job in English and the best part, Santa knew Ronaldo and told us that Wayne Rooney was a bit old like him and couldn't play football anymore lol. Noahs mad to get a dog and on the Santa list was a robot dog so to Noahs delight when Santa gave him a gift and it was a husky dog, he was smiling from ear to tear, I will alway remember him saying "Yessssss" when he saw it.  I just loved how relaxed this was and there was no pressure with time and we could take out own pictures and as many as we wanted and that there was no screen up between Noah and Santa. Im still smiling thinking of this……just MAGIC.
Then it was off to Elf School to learn little more about life in this magical place and some important words in Finnish, such as Joulupukki (Santa Claus) Then it was off to visit the toy factory and see where all the elves make the toys.
After lunch we headed out deep into the Artic wilderness where we got to do 3 activities, The Reindeer Ride, Husky Ride and A Snowmobile Safari.  We had to be very quiet on the Reindeer ride so not to frighten them, poor Noah has been watching too many Christmas movies and asked me when were they going to fly?  This was a lovely quiet ride through the snowy forest.  After this, we warmed up at the fire pit and enjoyed some warm berry juice before we headed on the main event The Husky Ride. I have never laughed so much in my life….I did NOT expect them to go so fast. There's a video saved in my highlights on my instagram page, you need to check it out, the laughs of us.  It was just brilliant.  The last activity was the Snow mobile Safari. The adults got to ride the snow mobiles themselves, I opted to sit snuggled up being pulled by one along with Noah. They had cosy blankets for us all as we headed out onto a frozen lake.  This was about 15 mins and Its the only time I felt cold, I can't imagine going on one for any longer.
Back to the hotel for hot choc for Noah and 2 glasses of Red for myself and Kevin. Again there was free time in the evening and you guessed it we were away sleighing.  I just loved coming in after a few hours sleighing and seeing Noah's wee rosey cheeks from having the best fun.
DAY TWO:
This pic was taken at 9am in the morning, it was so so dark and didn't get bright until 11am and dark again after 2.30pm. Off today to visit the Snow Village Hotel. This is a fascinating construction and a bit like a large warren of interconnected rooms made entirely out of snow.  Every year its made from scratch, and building can only begin when the temperatures fall below minus 5 degrees. This hotel is something else and you can actually stay there 350 a night….burrrrrrr!!!!! The best part for Noah, was the slide made of ice, best part for Mammy & Daddy, the ice bar, where we got shots of baileys in frozen shot glasses, just heaven. Even the tables and chairs were made from ice. Just before we got on the bus again there was a HUGE snowball fight between the 3 buses, Ive never heard so much laughter and my heart was never so full of love watching Noah having the time of his life.
We had loads of free time today which was our last day. Sunway have extra excursions you can book for that time, but we knew what we wanted to do. So beside our accommodation is a ski resort with a gondola that takes you right to the top where we were told is a secret cabin where you can get the nicest mint hot choices and donughts. For any of you who know Noah will know anything mint and it has his name all over it. We just bought 2 tickets to go up, Noah was freee.  The views were amazing, it was fab watching the people skiing down the slopes as we went up.  Then when we got to the top, I really felt like I was in the North Pole, it was so so magical and all that was there was this little cabin. The rumours were true, the most amazing hot chocs and donughts. It was so cosey, there was a huge big fire on and we were snug as bugs.  This for me after Santa was my biggest highlight of the trip. We rolled about in the snow after for ages, listening to the wee laughs of Noah.
Antigen tests complete and to the bar for two glasses of the nicest red wine.
DAY THREE:
Our bus wasn't picking us up until 1pm so you guessed it there's only one place our wee man wanted to head to and that was the slopes sleighing and in for one more last hot choc.The one thing I would say, is that there is a good bit of free time, which we loved because Noah loved sleighing and luckily never got bored of it and we loved it too.  There's not a lot other than sleighing to do in Yallas so keep that in mind.
Tips:
You know the quote " There is no such thing as bad weather only inappropriate clothing" This to me is the most important, I can hand on heart say we never felt an inch of cold.  DO your research and buy the right clothing.
The only real piece of clothing I would invest in is a REALLY good pair of socks for everyone.  The ones we had were amazing but we just had the one pair each so lucky we had another pair of good ones with us.
When you book, do a list out of everything you need clothes wise and pick up bits throughout the year, Mountain Warehouse do amazing sales. We have everything now for a Ski holiday which is def on the cards after we saw how much Noah loved it.
Money wise, we spent very little when we were here, just our wine, hot chocs and a few pressies for home.  With the Sunway package everything was included food wise. We got talking to another family of 3 who didn't have the all inclusive and each meal was costing them 90 euros when they were out, breakfast, lunch and dinner ouch.
I never wore an ounce of make up,  what I did layer up on all the time was my SPF and had Noah and Kevin do the same. I did have bepanthen with me for our cheeks but it wasn't that cold so we didn't need it, our SPF was ample.
Head torches, these were brilliant for when we were out sleighing in the dark.
It really was the trip of dreams and Im so so so glad we booked with Liberty travel with the Sunway package. Carolyn from Liberty kept us up to date on all travel changes and we didnt have to worry about thing only turning up at the airport.  We will DEF go back in a few years time and I would like to try a DIY trip this time. I know what exactly where I want to stay, so will spend the next few years researching now here to stay.  There's a group on Facebook "Lapland On A Budget" Cherry Stone set it up and I got so many tips from this page, whether you are doing a package or DIY I found it brilliant. This holiday was really special for the 3 of us for lots of reasons and we came back full of Christmas Cheer.  I loved that we were away so close to Christmas, we flew out of Dublin on Dec 16th and back on Dec 20th.
I really hope I have sparked some magic for you all in this blog, if you are thinking about it GO GO GO.  It was by far the BEST holiday we've ever been on.  I have a highlight on my instagram page Beaus And Belles Photography, you can check out all the videos.
Lapland We'll Be Back……
Joanne, Kevin & Noah x